Central African Republic
11-05-2018 | di COOPI
CAR: breeding of fry, pigs and chicks
The strategies that COOPI implements through its projects supporting the relaunch of the animal production chain in the Central African Republic are innovative. Unlike traditional distribution or emergency assistance projects often carried out in this country, COOPI aims to launch promising and sustainable supply chains, in particular through the creation of centres for the breeding of improved species.
The multi-sectoral crisis that has been pervasive throughout CAR for many years has drastically reduced the movement of herds and most farms have been looted. Prior to the conflict, the animal production sector represented more than 15% of this country's GDP. However, currently the sedentary population trading with nomadic groups is suffering from a lack of meat production. Hunting and fishing are heavily exploited, partially due to high population growth, and are no longer sufficient to feed the entire population.
The creation of a small cattle supply chain proposed by COOPI – for the most part through the implementation of production stations of young specimens - will allow the population to have the availability of fry, poultry and pigs. These new farms will reduce the human impact on the natural environment as well as reduce imports of meat products, which are often of mediocre quality. Moreover, another factor of fundamental importance is that these chains can generate jobs in a country where youth unemployment is often a factor favouring the growth of armed gangs.
Several aspects must be included in our strategy of creating production centres:
Young specimens bred in the centres will come from improved species: for several years, the Central African Republic has been suffering from a lack of animals with optimal characteristics. Thanks to these production centres, animals will be distributed to more than 1000 beneficiaries. They will have excellent growth performance, good genetic composition and adaption to the climate of the area, as well as improved breeding techniques. In this way it will be possible to increase the income of the chosen families and to improve the quality of high breeding farms.
Animals produced locally will be cheaper than young imported specimens, which require expensive transportation. Moreover, controlled technical itineraries, the use of local foods and the economies of scale obtained by pooling shared resources will allow to save money and therefore to support more producers. In addition, locally-produced animals do not require acclimatisation time, which is therefore another positive factor for breeders.
These centres will allow technical transference. Central African production is often family-run and follows an extensive model (animals that roam freely, poor food intake...). The adoption of new techniques will allow producers to be trained in more intensive production systems. The staff will receive training sessions on these production units and will be able to pass on their knowledge through exchange visits on their farms. In this way, the stations will act as "windows" and models to teach good zootechnical practices.
The management of these centres will be entrusted to farmers' organisations in charge of supporting and organising the different sectors. Consequently, this form of management will strengthen production in their respective roles. Several training courses, a ministry follow-up and specific projects will prevent any form of dispersion.
The creation of these centres is complex and requires the coordination and involvement of all actors of the breeding sectors in order to be profitable. Undoubtedly, projects with an excessively short cycle cannot be implemented with strategies that consume too much time.
Currently in Bangui and its surroundings, COOPI and its partners have created three production stations:
In the seventh district a station was created with partner NGO Cordaid that will be farming tilapia.
A poultry station with a breeding unit, nursery and incubator will be installed by COOPI in the eighth district of Bangui in Combattant district.
One last station, with a section for poultry and another for pigs, will be set up in the village of Samba, 15 km from Bangui (near Bimbo). This production unit will include a section featuring a barn for pigs and poultry and another one for the hatching and the pre-breeding.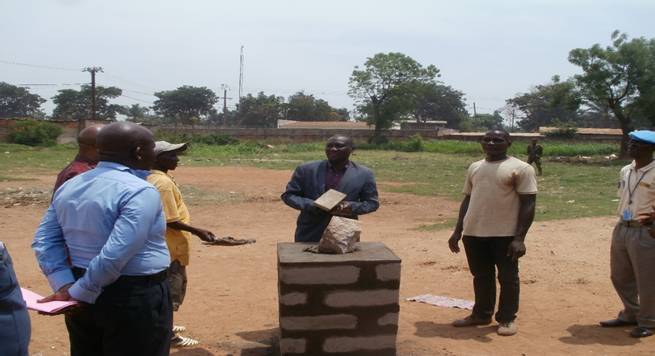 The first prayer during the rehabilitation of FNEC food farm and of the second ANGAC poultry station in presence of a Minister of Livestock and Animal Health representative in the Eighth District of Bangui.
These projects, funded by the Bêkou Trust Fund of the European Union and AICS (Italian Agency for Development Cooperation), will provide transitional mechanisms between emergency and development, bearing much hope for the Central African population. The activities described above, together with others, intend to support the entire small livestock sector. For this reason, COOPI and its partners are working to create shops, restaurants and food factories. The breeding units will act as pillars to achieving the objectives pursued, i.e. the well-being and the improvements for the standard of living of local populations and the increase in social cohesion within the country.