Ecuador
12-02-2021 | di COOPI
COOPI participates in the Human Mobility Zonal Roundtable on the southern border of Ecuador
COOPI - Cooperazione Internazionale actively participated in the Human Mobility Roundtable convened by the Ministry of Foreign Affairs and Human Mobility of Ecuador to address the migration situation on the southern border of the country, aggravated by the recent militarization. COOPI is part of the Working Group on Migrants and Refugees (WGMR), led by the International Organization for Migration (IOM) and the United Nations Refugee Agency (UNHCR), which has responded quickly by holding meetings with the presence of the 14 partners that make up the WGMR and that intervene through projects that provide assistance to refugees and migrants, especially in the current humanitarian crisis experienced by Venezuelans.
This meeting was particularly important because the presence of the Ecuadorian and Peruvian army on the border poses a risk to people's rights, with the use of bullets as a preventive measure against migrants and refugees and at the presence of children. These events have a punitive effect and run counter to efforts to guarantee safe migration, as well as discouraging the flow of Venezuelan migrants to Peru, as well as those who wish to return to Venezuela via Ecuador and Colombia. In this regard, several initial commitments were made to the WGRM to address four key areas: the organisation of reception centres for priority groups, the provision of food, the protection of vulnerable people and basic sanitation.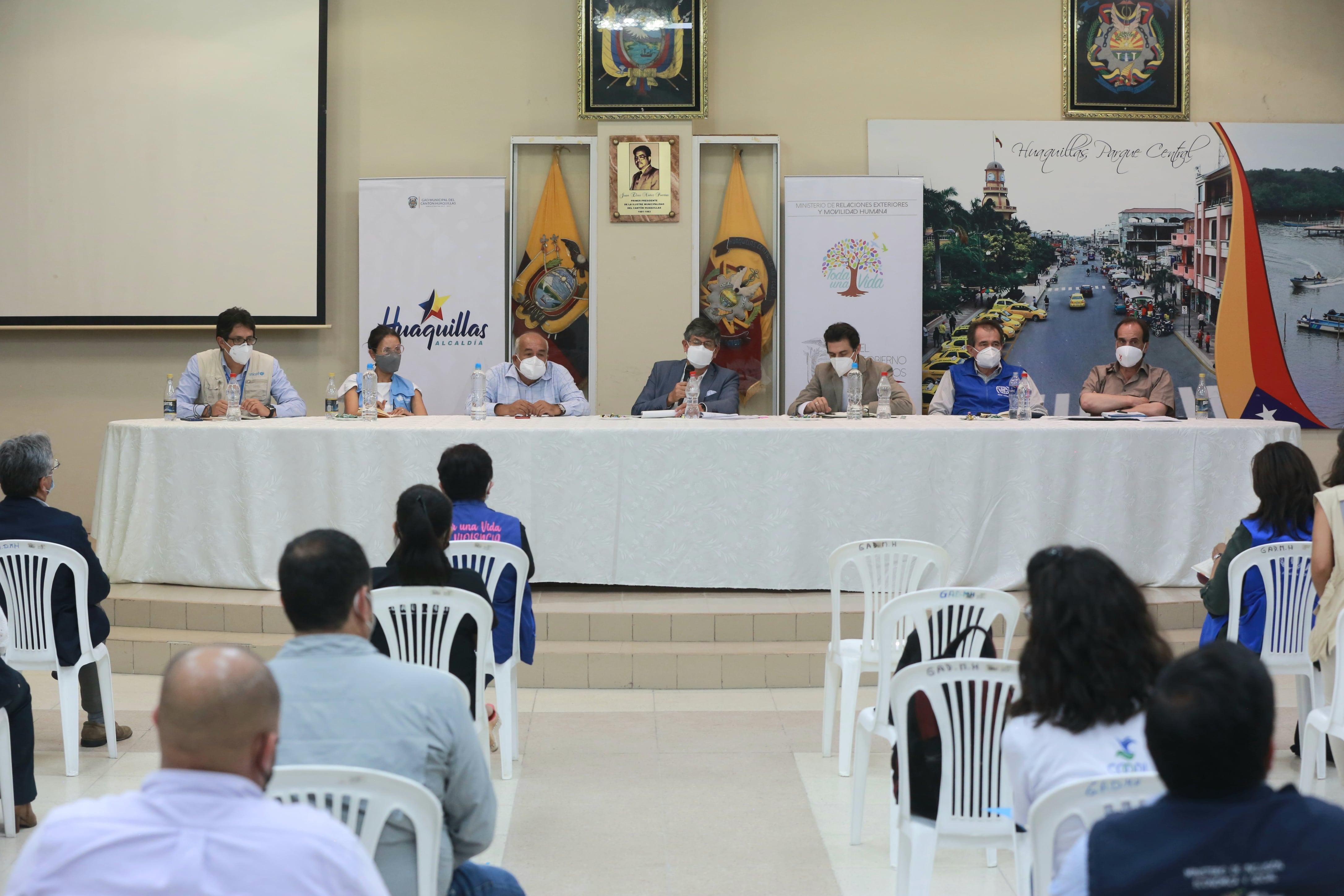 COOPI, together with its strategic partners UNICEF and UNHCR and with the support of the European Commission for Civil Protection and Humanitarian Aid Operations (ECHO), the Government of Canada and the United States Bureau of Population, Refugees and Migration (BPRM), coordinates and supports actions in Ecuador in sectors such as child and adolescent protection, prevention of gender-based violence, habitability, livelihoods and COVID-19 emergency response within the assistance, protection and promotion of the rights of the migrant and refugee population. Currently, COOPI has activated the delivery of 6,000 baby kits and 2,000 hygiene kits to Venezuelan families who are in the condition of "walkers" through blankets, hygiene kits and kits for pregnant women, nappies, among other supplements and supplies.
Likewise, the Ecuadorian Foreign Ministry considers that this Zonal Human Mobility Roundtable is an opportunity "to commit international cooperation to its continued support in the emergency that the border is experiencing, and to request greater coordination with central government entities and local GADs".